Privacy Matters: March 10th 2020
Covid 19 censorship
I meant to write this sooner but a few things got in the way. I was recently traveling and returned last week to San Francisco which is increasingly feeling like a city under self quarantine with many companies recommending or enforcing work from home policies and universities and schools closing their campuses.
A few weeks ago in my last newsletter I began discussing the issues of surveillance and censorship relating to COVID 19 and literally every day that has gone by I have been overwhelmed by new data and news articles. My initial passion for this issue has led to a very deep rabbit hole of investigation. Some of this is quite sobering and challenging to read.
My personal advice is to please treat this situation seriously. It's not the flu no matter what politicians or other people in power try to tell you. Most worryingly there is rampant misinformation and data everywhere and its easy to latch onto either the scariest or the most reassuring piece of data depending on your mood. Try to stay calm but vigilant.
Iran:
One of the scariest situations globally I believe is Iran. There is likely massive under reporting and coverups happening in Iran. Projecting the current number of politicians testing positive or who have already died (7.9%) and other known statistics puts the estimated number of COVID 19 cases at orders of magnitude larger than the currently reported numbers.
Earlier the Economist pointed out Iran's failure to address the outbreak before its elections.
China:
Although China has received praise recently for its apparent success in handling the COVID19 outbreak which started in Wuhan, there is growing concern over both the accuracy of the current numbers coming out of China and also the tactics used early in the outbreak to suppress news about the outbreak.
The earliest warning of the outbreak should have come in late December. Dr. Li Wenliang posted in a wechat group his concerns about the virus. After the message was shared outside of the local wechat group Dr. Li was detained by official from the city of Wuhan. He was later forced by police to sign a statement that his warning about the virus constituted "illegal behavior".
Dr. Li later sadly contracted the virus from a patient and died on Feb 7th. His death was followed by widespead outcry across China in reaction to his treatment.
Since early January, the messaging app wechat has been censoring the following terms:
""Unknown Wuhan pneumonia" and "SARS outbreak in Wuhan".
WeChat was found to have censored 132 keyword combinations between 1 - 31 January. As the outbreak continued, WeChat censored 384 new keywords between 1 - 15 February.
These include keywords that referenced Chinese leaders - including President Xi - as well as neutral references to government policies on handling the epidemic, and responses to the outbreak in Hong Kong, Taiwan and Macau."
https://www.bbc.com/news/world-asia-china-51732042
A number of dissidents in China have also been resorted to novel means to get their story out and avoid it being censored by the government. After the story about covid19 from Dr. Ai Fen was deleted from her wechat account, it was restored elsewhere by activists in some unusual ways including being written backwards, in braille and in a made up "martian" language used by Chinese users to avoid censorship. More news on this novel anti censorship issue here. The image shown below is yet another anti censorship version of her interview.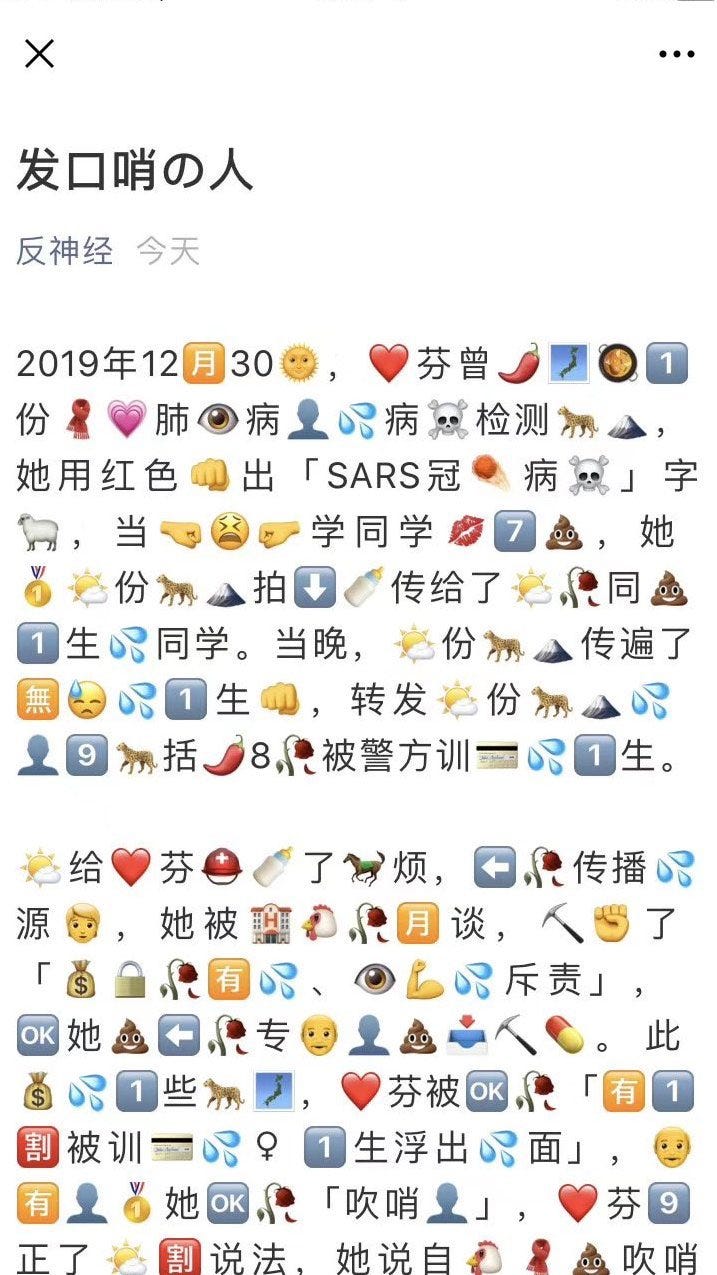 Other approaches by Chinese activists include the use of open source tools such as Github and creating a digital archive of covid 19 stories.
On a stranger note, China banned the rather macabre iPhone game "the Plague" which models virus growth.
On the flip side, China is using many of the tools of its surveillance state to fight the virus amidst protests by locals over the apparent success of its approaches.
Italy:
Unlike China and Iran which are likely both faking data, Italy is being very transparent. The data from Italy is sobering and provides a model for what could happen in any community.
Events:
Many events globally have been canceled. I attended 2 of the last ones to be held in London and Paris in the Ethereum community. At the beginning of my trip many people found my refusal to shake hands strange but by the end it had become normal. Spreading the habit to other people of taking more responsibility is one of our civic duties. Good ideas and practices can spread and do good.
One of my favorite events of the year was canceled a few weeks ago: The Oslo Freedom Forum:
I'm going to close this newsletter with a quote from Thor Halvorssen. President of the HRF.
"We expect travel restrictions to be implemented by numerous governments of countries from where delegates, dissidents, journalists, and valued members of our community will originate their travel. This will make the visa and entry process into Norway (and possibly into layover countries) challenging because many of our speakers and participants are arriving from countries and regions already affected by the virus, such as Italy, Iran, Korea, Hong Kong, Taiwan, and China.
The events in Iran and China surrounding the spread of the Wuhan Coronavirus, and the government's response to it, are a testament to why the Oslo Freedom Forum, a global conference devoted to exposing dictatorial regimes and promoting democracy, exists.
Dictatorial regimes limit freedom of expression, promote blind obedience to the government, and discourage transparency and accountability. Regimes falsify and even fabricate health statistics, in their constant efforts to paint false realities and hide difficult societal truths.
HRF believes that the current global health emergency is a powerful reminder of how authoritarian regimes, which rule almost half of the world's countries, pose a serious threat to global peace and prosperity."